Smart Marketing, Public Relations, & Advertising...
(and nice people, too!)
Brand Your Business With Style
You put your heart and soul into building your business, now let us help you brand it. We'll put our years of marketing and public relations experience to work for you, pointing out exactly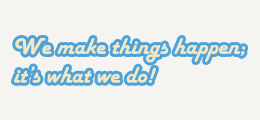 how you can reach potential clients and stay connected to current ones.
We'll guide you through the process…from creating a dynamic and professional website, to increasing your visibility in the community, to drawing in customers through brochures and direct mail. And in the age of social marketing, we know how to use networking opportunities like Facebook, Twitter and YouTube to your advantage.
Whether you own an established business or are just getting off the ground, marketing is key to the success of business - no matter how small or large.
The staff at Whittaker Marketing helps us maintain a strong presence in the community, so we're always on the forefront of our customers' minds. It's definitely giving us an extra boost in the current economy.
-Nancy Egge, Twitchell Corporation (Dothan)
They came up with a plan for reaching our customers and carried it out smoothly. They aren't about hype. They're about sharing our company mission with the public.
-Gary Granger, Higgins Electric
Contact us today for a free initial consultation and let us help you reach your marketing goals.